Corazon has partnered with iWebGate to provide unparalleled Network Security. Their Ghost Network Platform brings a whole new meaning to DMZ-in-a-Box!
With iWebGate:
Secure email communication between trusted organisations

Automate BI reporting!

Bid adieu to business sapping VPN connections

Connect remotely AND securely without impacting speed!

Cloud Solution!

Build an extra layer of protection around your IT infrastructure.
Find out more about protecting your network.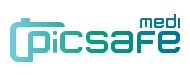 PicSafe Medi allows healthcare professionals to safely snap, transmit and securely store patient-consented clinical photos.

Designed to be used by a wide range of healthcare professionals working in a variety of clinical settings, PicSafe Medi (patent pending) is as simple as using the normal camera on your smartphone, except for one small difference — Your patient's photo is completely secure in its consent, transmission, and storage when taken with PicSafe.
Increase your efficiency as a provider and improve you patient outcomes.

Remove the worry surrounding patient privacy and government regulatory compliance when taking medical photos.

Assure quick, efficient pictorial documentation of your patient's status and facilitate the medical referral process.
Our partnership with SAP enables us to provide exceptionally powerful and industry leading Business Intelligence Solutions! Through the SAP Crystal relationship, we are now able to deliver the entire suite of Business Intelligence solutions – Dashboards, Interactive Reporting, Automated Business Reporting, What-if Analysis, SAP Crystal Server, Developer as well as Business Objects EDGE Solutions.
More information on our SAP Business Intelligence Solution Suite can be found here.