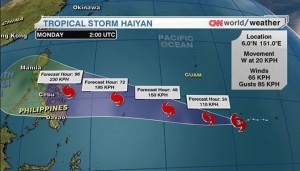 Natural disasters are brutal and heartless. More importantly, they are inevitable. The changing climate, variable weather systems, global warming all contribute to creating such horrific encounters with nature.
Philippines knew about Haiyan and the havoc it was going to create. Thankfully, enough people were evacuated in time and millions of lives saved. However, despite all the pre-emptive action, the death toll still rings in over 10,000 and counting.
Now, the important task of rebuilding begins. International aid rolls in and humanitarian efforts strive to restore normalcy to a land so brutally battered by wind and rain. Essential services like food, water, shelter and healthcare are a need of the hour. So how is any of that relevant to us.
Many business must have been completely destroyed in this typhoon. Roads flooded, roofs ripped apart, buildings collapsed. However, what enables a business to recover from such a disaster. Disaster recovery. Yes. Remember – Backup!
Scenario 1: A medical practice has a backup solution in place. Every night, the backup program kicks in and backs-up the data on a hard drive / tape. In some instances the secretary / practice manager / doctor takes that USB drive home as an "off site" copy just in case something happens to the medical practice. Still a lot better than some practices that don't have ANY backup off-site. Imagine if your city got hit by a storm (might not be as big as Haiyan). Chances are that both your practice and your off-site backup could both get compromised. Overnight, you would lose your entire practice – no data, no patient information. Unfortunately, if you had a paper files for patient records – the risk is even higher. A small change in your backup routine would provide you with a significantly higher chance of recovering your practice.
Scenario 2: Pretty much the same as before, however in this instance, instead of taking a back-up on to a USB drive and driving home with it, back-up to a "cloud based backup solution'. These "cloud solutions" are usually built to survive the harshest of storms, typhoons, earthquakes and even fire damage. More often than not, housed in the cold embrace of concrete and steel. In the event of a natural disaster (typhoon..), while your medical practice might be rained under or even the roof blown off, the "cloud backup" would have survived. So much easier to get back up and running! And if you are astute enough to run your ENTIRE practice in the cloud then there is nothing to worry about in the first place!
More often than not, we play the risk game. Oh, nothing will happen to us. Why would anyone want to hack our system. Often the marginal increase in cost turns us away.
The important point to consider is, as a medical practice you have a duty of care. Wouldn't it be nice to know that no matter what, your clinical data is always accessible and secure.
Contact us to find out more about how we can protect and secure your medical practice.